Absolute Estate Auction with Additions- Windsor Green Dr. Villa Hills, KY (255)
All items closed
« Back to list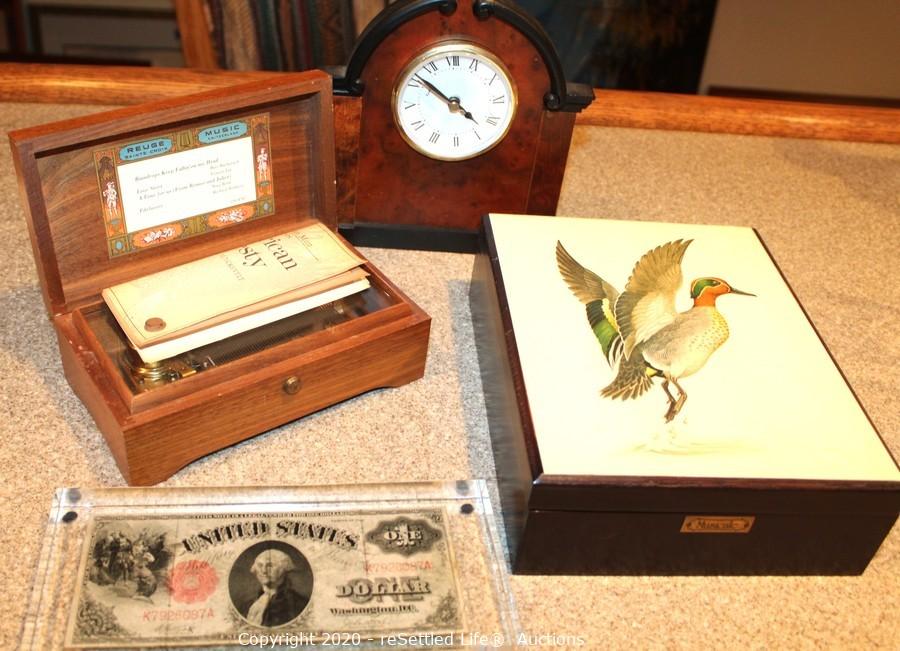 Lot #0328:
Pair of Wooden Musical Jewelry Boxes and Mantle Clock
Bidding is

closed

.
High Bid:
$175.00
NA
Bidding Ended:
Sun, Sep 20 9:50:04 pm ET
High Bidder:
LunaBelle
Bid Increment:
$10.00
Starting Bid:
$1.00
Item has been viewed 109 times.
Pair of wooden musical jewelry boxes - Swan Lake. Schmid-Lindr Wood Carving - "Raindrops Keep Falling on My Head". Battery operated mantle clock.
Dimensions: Clock H: 8"


Taxable
| | | |
| --- | --- | --- |
| Bid Date | Bid Amount | Bidder |
| Sep 20, 2020 - 9:47:04 PM | $175.00 | iLunaBelle |
| Sep 20, 2020 - 9:45:12 PM | $165.00 | iCengland |
| Sep 20, 2020 - 9:43:47 PM | $155.00 | iLunaBelle |
| Sep 20, 2020 - 9:42:06 PM | $145.00 | iCengland |
| Sep 20, 2020 - 9:41:54 PM | $135.00 | iLunaBelle |
| Sep 20, 2020 - 9:41:54 PM | $125.00 | iCengland |
| Sep 20, 2020 - 9:41:40 PM | $115.00 | iLunaBelle |
| Sep 20, 2020 - 9:41:12 PM | $105.00 | iCengland |
| Sep 20, 2020 - 9:40:58 PM | $100.00 | iLunaBelle |
| Sep 20, 2020 - 9:40:58 PM | $95.00 | iCengland |
| Sep 20, 2020 - 9:40:46 PM | $90.00 | iLunaBelle |
| Sep 20, 2020 - 9:40:46 PM | $85.00 | iCengland |
| Sep 20, 2020 - 9:40:28 PM | $80.00 | iLunaBelle |
| Sep 20, 2020 - 9:40:28 PM | $75.00 | iCengland |
| Sep 20, 2020 - 9:37:28 PM | $65.00 | iCengland |
| Sep 20, 2020 - 9:37:28 PM | $60.00 | iLunaBelle |
| Sep 20, 2020 - 7:15:26 PM | $55.00 | iCengland |
| Sep 20, 2020 - 3:11:10 PM | $50.00 | iblackfoot |
| Sep 20, 2020 - 2:13:05 PM | $45.00 | iskinnybones |
| Sep 20, 2020 - 9:14:42 AM | $40.00 | iblackfoot |
| Sep 20, 2020 - 9:14:42 AM | $35.00 | iKaytes |
| Sep 20, 2020 - 9:14:36 AM | $30.00 | iblackfoot |
| Sep 20, 2020 - 9:14:36 AM | $25.00 | iKaytes |
| Sep 17, 2020 - 3:02:26 PM | $20.00 | iblackfoot |
| Sep 17, 2020 - 3:02:26 PM | $15.00 | iMysteryMan |
| Sep 15, 2020 - 1:24:10 PM | $6.00 | iMysteryMan |
| Sep 15, 2020 - 1:24:10 PM | $5.00 | ironc3393 |
| Sep 15, 2020 - 9:04:45 AM | $2.00 | ironc3393 |
| Sep 15, 2020 - 2:42:23 AM | $1.00 | itmcgill |