Absolute Estate Auction- Ridgeview Dr. Dry Ridge, KY (202)
All items closed
« Back to list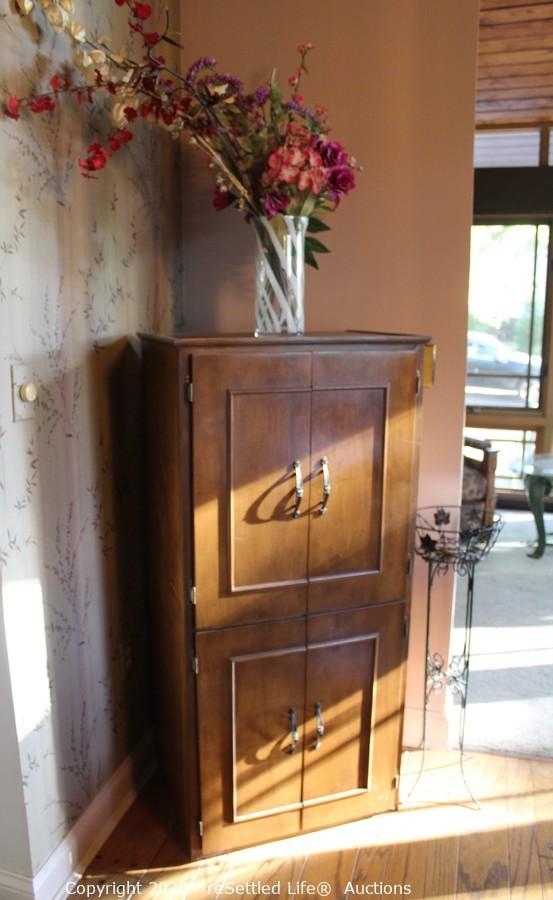 Lot #0078:
Cabinet
Bidding is

closed

.
High Bid:
$100.00
NA
Bidding Ended:
Sun, Oct 18 8:38:00 pm ET
High Bidder:
glenlivet
Bid Increment:
$5.00
Starting Bid:
$1.00
Item has been viewed 141 times.
Wood cabinet two sets of double doors that open to adjstable shelves, antique brass hardware. Some scratching present. Located on main floor. Includes table cloths and runners and glass vase with swirl of white and faux flowers.
Dimensions: 25 x 17.5 x 53"


Taxable
| | | |
| --- | --- | --- |
| Bid Date | Bid Amount | Bidder |
| Oct 18, 2020 - 4:57:30 PM | $100.00 | iglenlivet |
| Oct 18, 2020 - 4:44:36 PM | $95.00 | iPrettyzella |
| Oct 18, 2020 - 4:44:31 PM | $90.00 | iglenlivet |
| Oct 18, 2020 - 4:44:31 PM | $85.00 | iPrettyzella |
| Oct 18, 2020 - 4:44:12 PM | $80.00 | iglenlivet |
| Oct 18, 2020 - 4:44:12 PM | $75.00 | iPrettyzella |
| Oct 18, 2020 - 4:44:06 PM | $70.00 | iglenlivet |
| Oct 18, 2020 - 4:44:06 PM | $65.00 | iPrettyzella |
| Oct 18, 2020 - 4:42:54 PM | $60.00 | iglenlivet |
| Oct 18, 2020 - 4:42:54 PM | $55.00 | iPrettyzella |
| Oct 18, 2020 - 4:42:44 PM | $50.00 | iglenlivet |
| Oct 18, 2020 - 4:42:44 PM | $45.00 | iPrettyzella |
| Oct 18, 2020 - 4:34:04 PM | $40.00 | iglenlivet |
| Oct 17, 2020 - 7:59:49 PM | $35.00 | iPrettyzella |
| Oct 17, 2020 - 11:39:12 AM | $30.00 | iglenlivet |
| Oct 17, 2020 - 11:39:12 AM | $25.00 | iPrettyzella |
| Oct 17, 2020 - 11:03:36 AM | $20.00 | iglenlivet |
| Oct 14, 2020 - 10:32:52 PM | $15.00 | iPrettyzella |
| Oct 14, 2020 - 10:32:41 PM | $10.00 | iMandy521 |
| Oct 14, 2020 - 10:32:41 PM | $9.00 | iPrettyzella |
| Oct 14, 2020 - 6:22:14 PM | $8.00 | iMandy521 |
| Oct 14, 2020 - 12:18:00 PM | $7.00 | iPrettyzella |
| Oct 14, 2020 - 10:43:30 AM | $6.00 | iPerky9 |
| Oct 13, 2020 - 4:29:40 PM | $5.00 | iPrettyzella |
| Oct 13, 2020 - 3:56:36 PM | $4.00 | iPerky9 |
| Oct 13, 2020 - 1:50:56 PM | $3.00 | iPrettyzella |
| Oct 13, 2020 - 1:18:46 PM | $2.00 | iPerky9 |
| Oct 13, 2020 - 11:50:07 AM | $1.00 | iPrettyzella |