Absolute Estate Auction- Ridgeview Dr. Dry Ridge, KY (202)
All items closed
« Back to list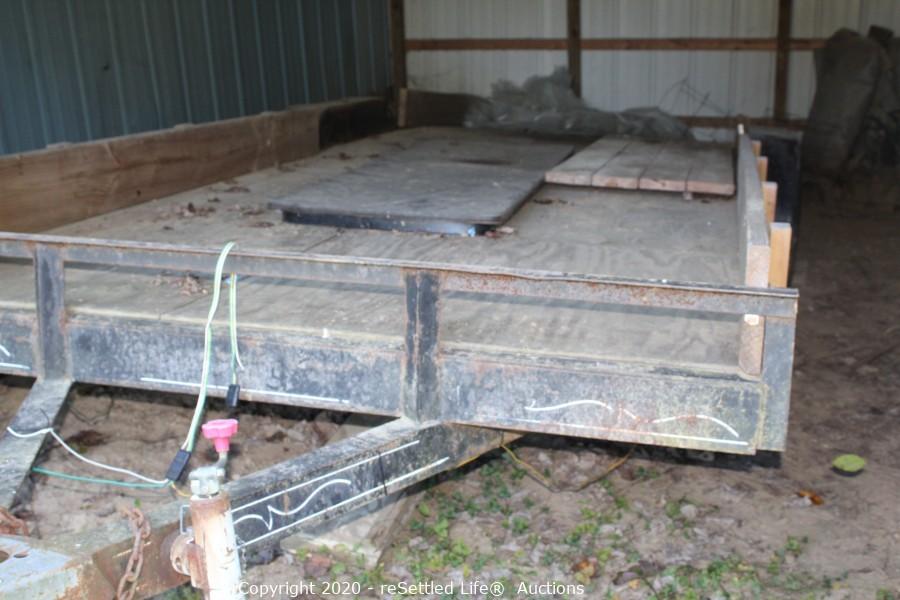 Lot #0215:
Ceqent Trailer Products 22' Trailer
Bidding is

closed

.
High Bid:
$1,505.00
NA
Bidding Ended:
Sun, Oct 18 9:45:21 pm ET
High Bidder:
Wrightbrothers
Bid Increment:
$50.00
Starting Bid:
$1.00
Item has been viewed 344 times.
5,000 lb., use only with 2" ball, SAE class 3 gross trailer weight 5000 lbs., new rails, double axel. 
Located approx 250 yards from house in a barn. 


Due to rain first of the week, we are scheduling pickup for farm equipment take place Thursday evening to prevent damage to the yard. Please contact us with any questions. 
Taxable
| | | |
| --- | --- | --- |
| Bid Date | Bid Amount | Bidder |
| Oct 18, 2020 - 9:42:21 PM | $1,505.00 | iWrightbrothers |
| Oct 18, 2020 - 9:42:15 PM | $1,455.00 | iTtrunk04 |
| Oct 18, 2020 - 9:39:32 PM | $1,405.00 | iWrightbrothers |
| Oct 18, 2020 - 9:32:57 PM | $1,355.00 | iTtrunk04 |
| Oct 18, 2020 - 9:32:28 PM | $1,305.00 | iWrightbrothers |
| Oct 18, 2020 - 9:31:10 PM | $1,255.00 | iTtrunk04 |
| Oct 18, 2020 - 9:25:42 PM | $1,205.00 | iWrightbrothers |
| Oct 18, 2020 - 9:25:14 PM | $1,155.00 | imgreen |
| Oct 18, 2020 - 9:24:58 PM | $1,105.00 | iWrightbrothers |
| Oct 18, 2020 - 9:24:59 PM | $1,105.00 | imgreen |
| Oct 18, 2020 - 8:57:23 PM | $1,055.00 | iWrightbrothers |
| Oct 18, 2020 - 8:57:23 PM | $1,005.00 | imgreen |
| Oct 18, 2020 - 8:53:15 PM | $995.00 | iWrightbrothers |
| Oct 18, 2020 - 8:51:44 PM | $985.00 | imgreen |
| Oct 18, 2020 - 8:46:47 PM | $975.00 | iWrightbrothers |
| Oct 18, 2020 - 8:24:25 PM | $965.00 | imgreen |
| Oct 18, 2020 - 8:24:16 PM | $955.00 | iTtrunk04 |
| Oct 18, 2020 - 8:24:17 PM | $955.00 | imgreen |
| Oct 18, 2020 - 8:21:29 PM | $945.00 | iTtrunk04 |
| Oct 18, 2020 - 8:19:43 PM | $935.00 | imgreen |
| Oct 18, 2020 - 12:33:41 PM | $925.00 | iWrightbrothers |
| Oct 18, 2020 - 12:10:14 PM | $915.00 | imgreen |
| Oct 18, 2020 - 12:08:09 PM | $905.00 | iWrightbrothers |
| Oct 18, 2020 - 12:08:10 PM | $905.00 | imgreen |
| Oct 18, 2020 - 12:07:38 PM | $845.00 | iWrightbrothers |
| Oct 18, 2020 - 12:07:38 PM | $835.00 | imgreen |
| Oct 18, 2020 - 12:07:25 PM | $825.00 | iWrightbrothers |
| Oct 18, 2020 - 12:07:25 PM | $815.00 | imgreen |
| Oct 18, 2020 - 10:53:22 AM | $805.00 | iWrightbrothers |
| Oct 18, 2020 - 10:53:22 AM | $795.00 | iTheKid |
| Oct 18, 2020 - 10:53:13 AM | $785.00 | iWrightbrothers |
| Oct 18, 2020 - 10:53:13 AM | $775.00 | iTheKid |
| Oct 18, 2020 - 10:50:55 AM | $765.00 | iWrightbrothers |
| Oct 18, 2020 - 10:50:55 AM | $755.00 | iTheKid |
| Oct 18, 2020 - 10:39:21 AM | $735.00 | iWrightbrothers |
| Oct 18, 2020 - 10:39:17 AM | $725.00 | iTheKid |
| Oct 18, 2020 - 10:39:18 AM | $725.00 | iWrightbrothers |
| Oct 18, 2020 - 10:34:53 AM | $715.00 | iTheKid |
| Oct 18, 2020 - 10:34:21 AM | $705.00 | iWrightbrothers |
| Oct 18, 2020 - 10:34:21 AM | $695.00 | iTheKid |
| Oct 18, 2020 - 10:14:07 AM | $685.00 | iWrightbrothers |
| Oct 18, 2020 - 10:14:07 AM | $675.00 | idmacfarms |
| Oct 18, 2020 - 10:12:00 AM | $585.00 | iWrightbrothers |
| Oct 18, 2020 - 10:12:00 AM | $575.00 | idmacfarms |
| Oct 16, 2020 - 8:45:19 PM | $555.00 | iWrightbrothers |
| Oct 16, 2020 - 8:45:19 PM | $545.00 | iDavidw09 |
| Oct 16, 2020 - 8:13:21 PM | $535.00 | iDavidw09 |
| Oct 16, 2020 - 8:12:54 PM | $525.00 | idmacfarms |
| Oct 16, 2020 - 8:12:54 PM | $515.00 | iDavidw09 |
| Oct 16, 2020 - 3:53:29 PM | $505.00 | idmacfarms |
| Oct 16, 2020 - 3:53:29 PM | $495.00 | iWaterloo |
| Oct 16, 2020 - 3:53:23 PM | $485.00 | idmacfarms |
| Oct 16, 2020 - 3:53:23 PM | $475.00 | iWaterloo |
| Oct 16, 2020 - 3:53:17 PM | $465.00 | idmacfarms |
| Oct 16, 2020 - 3:53:17 PM | $455.00 | iWaterloo |
| Oct 16, 2020 - 3:52:59 PM | $445.00 | idmacfarms |
| Oct 16, 2020 - 3:52:59 PM | $435.00 | iWaterloo |
| Oct 16, 2020 - 3:05:39 PM | $425.00 | idmacfarms |
| Oct 14, 2020 - 11:06:54 AM | $415.00 | iNMILLER9970 |
| Oct 14, 2020 - 11:06:51 AM | $405.00 | iGreat White Buffalo |
| Oct 14, 2020 - 11:06:51 AM | $395.00 | iNMILLER9970 |
| Oct 14, 2020 - 11:06:46 AM | $385.00 | iGreat White Buffalo |
| Oct 14, 2020 - 11:06:46 AM | $375.00 | iNMILLER9970 |
| Oct 14, 2020 - 8:05:36 AM | $365.00 | iGreat White Buffalo |
| Oct 14, 2020 - 8:05:22 AM | $355.00 | iMetalman |
| Oct 14, 2020 - 8:05:23 AM | $355.00 | iGreat White Buffalo |
| Oct 14, 2020 - 7:56:22 AM | $315.00 | iMetalman |
| Oct 14, 2020 - 7:56:16 AM | $305.00 | iGreat White Buffalo |
| Oct 14, 2020 - 7:56:16 AM | $295.00 | iMetalman |
| Oct 14, 2020 - 7:56:10 AM | $285.00 | iGreat White Buffalo |
| Oct 14, 2020 - 7:56:10 AM | $275.00 | iMetalman |
| Oct 13, 2020 - 9:42:01 PM | $265.00 | iGreat White Buffalo |
| Oct 13, 2020 - 9:41:46 PM | $255.00 | imobiewan |
| Oct 13, 2020 - 9:41:47 PM | $255.00 | iGreat White Buffalo |
| Oct 13, 2020 - 3:49:05 PM | $215.00 | imobiewan |
| Oct 13, 2020 - 3:49:05 PM | $205.00 | islugdb |
| Oct 13, 2020 - 3:48:46 PM | $155.00 | islugdb |
| Oct 13, 2020 - 3:48:46 PM | $145.00 | imobiewan |
| Oct 13, 2020 - 12:35:01 PM | $1.00 | islugdb |